▲
Real insight on French culture from a French native point of view. Mostly run by Em, 26, living in Paris.
▲
Welcome to AwesomeFrench !
Liberté, Egalité, Croque au Comté
L'Ordre de Mobilisation Générale a 100 ans aujourd'hui. 
In 1940, knowing that France was falling into the hands of the Germans, the workers of the Louvre took action. All 400,000 works were evacuated and sent to the south of France. In secret they transported the priceless paintings and statues, and held by wealthy families in Vichy,where they would remain for five years, only returning at the end of the war.The quick action of the workers without a doubt saved the masterpieces from becoming part of the over 5 million works that were looted by the Nazis during the war.
Tthe first pictures of Paris followed the emergence in 1839 of the first daguerreotypes. From 1854 onwards, photography became available to a wider range of people ! This was  the beginning of photography in Paris with for instance those conducted by …
The Paris Commune (French: La Commune de Paris) was a revolutionary movement that briefly ruled Paris from 18 March until 28 May 1871.
On 2 September 1870, after his unexpected defeat at the Battle of Sedan in the Franco-Prussian War, Emperor Louis Napoleon III surrendered to the Prussian Chancellor, Otto von Bismarck. When the news reached Paris on 3 September, shocked and angry crowds came out into the streets, the Empress Eugenie, the regent of the Emperor, fled the city, and the Government of the Second Empire swiftly collapsed. Republican and radical deputies of the French National Assembly went to the Hotel de Ville and proclaimed the new French Republic, and formed a Government of National Defense. Though the Emperor and the French Army had been defeated at Sedan, the war continued. The German army marched swiftly toward Paris.
Of the two million people in Paris in 1869, according to the official census, there were about 500,000 industrial workers, or fifteen percent of all the industrial workers in France, plus another three to four hundred thousand workers in other enterprises. Only about 40,000 were employed in factories and large enterprises; most were employed in small workshops and businesses making clothing and textiles, furniture, and in construction. There were also 115,000 servants and 45,000 concierges. In addition to the native French population, there were about one hundred thousand immigrant workers and political refugees, the largest number being from Italy and Poland.

The French historian Jacques Rougerie, wrote in 2014: "the number ten thousand victims seems today the most plausible; it remains an enormous number for the time."

1. Paris people
2. L'hôtel de ville
3. Rue de Rivoli
The Panthéon is a building in the Latin Quarter in Paris. It was originally built as a church dedicated to St. Genevieve and to house the reliquary châsse containing her relics but, after many changes, now functions as a secular mausoleum containing the remains of distinguished French citizens.

The inscription above the entrance reads AUX GRANDS HOMMES LA PATRIE RECONNAISSANTE ( "To the great men, the grateful homeland"). By burying its great men in the Panthéon, the Nation acknowledges the honour it received from them. As such, interment here is severely restricted and is allowed only by a parliamentary act for "National Heroes". Similar high honours exist in Les Invalides for historical military leaders such as Napoléon, Turenne and Vauban.
Among those buried in its necropolis are Voltaire, Rousseau, Victor Hugo, Émile Zola, Jean Moulin, Louis Braille, Jean Jaurès and Soufflot, its architect. Marie Curie is the only woman interred based on her own merits.

PANTHÉON - François Hollande a annoncé ce vendredi 21 février le transfert au Panthéon des cendres de quatre figures de la Seconde Guerre mondiale, Germaine Tillion, Geneviève de Gaulle-Anthonioz, Jean Zay et Pierre Brossolette. L'officialisation a eu lieu à l'occasion d'un hommage rendu par le chef de l'Etat aux héros de la Résistance au Mont-Valérien (Hauts-de-Seine).
NB: Le "parité oblige" me dérange beaucoup dans leur article. Pourquoi faut-il justifier l'entrée de femmes au Panthéon par la parité ? Leur oeuvre ne se suffit-elle pas à elle-même ? *Je pose la question*
A portrait of George Sand.

Amandine-Aurore-Lucile Dudevant, née Dupin, was a Romantic novelist published under the pseudonym George Sand. A dear friend of Nadar, she was photographed frequently by him through the 1860s.

George Sand, 1861-1869, Nadar. J. Paul Getty Museum.
French Territorial changes from 985 to 1947
Do you know any good, very good books on the French history in general (very detailled ones ? Ones that comprises many as possible) Thank you very, very much !
◥

Anonymous
Another follower had a similar request a few months ago, so here are the recs she got:

La Belle France; a short history by Alistair Horne

A History of Modern France by Jeremy Popkin

A History of French Passions by Theodore Zeldin

The Discovery of France by Graham Robb

"The History of France" - Jan Baszkiewicz, but it's a polish book. i dunno if it's translated in eglish : (

I can add some French books recs, if you want.

And if anyone wants to complete this list, go ahead! That'd be really nice of you.
6th of June 1944 - World War Two: the Allied Invasion of Europe - theatlantic.com

1. A section of the Armada of Allied landing craft with their protective barrage balloons head toward the French coast, in June of 1944. (AP Photo)

2. Canadian soldiers from 9th Brigade land with their bicycles at Juno Beach in Bernieres-sur-Mer during D-Day, while Allied forces were storming the Normandy beaches. (STF/AFP/Getty Images)

3. Thirteen liberty ships, deliberately scuttled to form a breakwater for invasion vessels landing on the Normandy beachhead lie in line off the beach, shielding the ships in shore. The artificial harbor installation was prefabricated and towed across the Channel in 1944. (AP Photo)
la "Machine" d'Angélique du Coudray

Angélique Marguerite Le Boursier Du Coudray was born in 1714 into an eminent French medical family in Clermont-Ferrand. In February of 1740, at the age of twenty-five she completed her three year apprenticeship with Anne Bairsin, dame Philibet Magin and passed her qualifying examinations at the College of Surgery École de Chirurgie. Du Coudray later became the head accoucheuse at the Hotel Dieu in Paris.

She published an early midwifery textbook, Abrégé de l'art des accouchements (Abridgment of the Art of Delivery) in 1759, which was a revision and expansion of an earlier midwifery textbook published in 1667.

In 1759, the king allowed her to teach midwifery to peasant women in an attempt to reduce infant mortality. Between 1760 to 1783, she traveled all over rural France, sharing her extensive knowledge with poor women. During this time, she is estimated to have taught in over forty French cities and rural towns and to have directly trained  thousands of students. She has also taught surgeons and physicians, who were all men.

Du Coudray died at the end of the end of the 18th century.


Du Coudray invented the first lifesize obstetrical mannequin, for practicing mock births. It was usually called "The Machine". Each machine cost about three hundred livres to construct. They were usually made of fabric, leather, and stuffing and on occasion they would use actual human bones to form the torso. Various strings and straps serve to simulate the stretching of the birth canal and perineum, to demonstrate the process of childbirth. The head of the infant mannequin has a shaped nose, stitched ears, hair drawn with ink, and an open mouth (with tongue) into which a finger could be inserted to a depth of 5 cm. This detail was important, as it allowed the midwife to put two fingers into the mouth, to facilitate the passage of the head in case of a breech presentation.

According to Medarus.org, Du Coudray wanted her lesson to be palpable and then had the idea to create a mannequin that would enable the student to practice different kind of situations (with a seven months foetus, with twins, with a new born…)
Qui étaient les Gaulois ? Jean-Jacques Beineix accompagne les archéologues sur leurs chantiers de fouilles et dans les laboratoires, et fait le point sur vingt ans de découvertes.
"
Un Poilu.
"Hairy (man)"
A WW1 French soldier
Certains corps ont déjà pu être identifiés grâce à leur plaque. Une telle découverte au même endroit est très rare.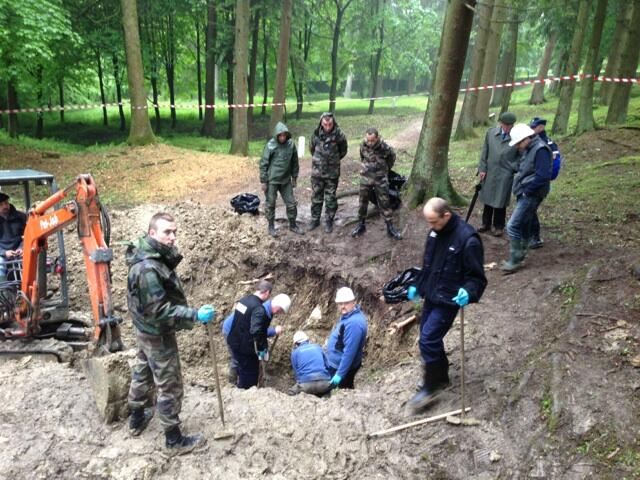 C'est un simple os posé sur une butte qui a attiré l'attention. Après l'avoir découvert mardi à Fleury-devant-Douaumont, dans la Meuse, des touristes allemands ont alerté l'Ossuaire de Douaumont. Une fois sur place, les spécialistes ont repéré un peu plus bas, au sol, des vertèbres et des côtes. Après quelques coups de pelle, ils ont découvert deux corps entiers, et ont prévenu le procureur. Les recherches se sont poursuivies avec une pelleteuse. Résultat: une vingtaine de corps ont été exhumés, d'après les médecins légistes.
Ces ossements sont ceux de soldats français de la Grande Guerre. Sept des corps ont pu être identifiés grâce à la plaque qui se trouvait avec. Les premiers retrouvés auraient été rapatriés en mars 1916 dans un poste de secours depuis le ravin de la Caillette, à Verdun, et seraient morts dans l'explosion d'un obus. Les deux derniers sont morts en mai 1916 alors qu'il protégeaient le village d'un assaut. Un journaliste de RTL sur place a partagé des photos des recherches sur Twitter.
Avec eux ont été déterrés cartouchières, baïonettes, mais aussi chapelets, briquets et médailles de communion. Ainsi que deux montres, qui indiquent toutes deux 11h06, probablement l'heure de l'explosion.
Pas de telle découverte depuis vingt ans
Retrouver des dépouilles de soldats de la Grande guerre est relativement fréquent, surtout après de fortes intempéries. Les corps ensevelis dans des tranchées refont alors surface. Mais en découvrir autant au même endroit et pouvoir les identifier est très rare. «On trouve trois ou quatre corps par an, c'est tout. La dernière découverte de ce type remonte à une vingtaine d'années», explique au Figaro Olivier Gérard, directeur de l'Ossuaire de Douaumont. En 1991, les corps de l'écrivain français Alain Fournier et de ses vingt compagnons d'arme, tués sur le front en 1914, avaient été découverts dans la Meuse.
Les familles des corps identifiés vont être recherchées. Ils pourront rejoindre différentes nécropoles nationales existantes. Les ossements des autres seront transférés à l'Ossuaire. Ils s'ajouteront aux dépouilles de 130.000 soldats déjà rassemblées dans ce musée de squelettes.