What is the protocol with the faire la bise custom? I heard that it differs between regions and people and that it's not really a kiss but a pretend kiss. Would you be viewed as uncultured if you had been doing it wrong ie actually lips touching the cheek kissing?
◥

Anonymous
How to "faire la bise"
The "regular" bise is just the cheeks "bumping", no lips or even kiss involved. Imagine a virtual vertical line right in the middle of your cheek: the part from your mouth to your mid-cheek is for affectionate kisses,  the part from your mid-cheek to your ear is for the bise. We slightly bump that second part only and most of us fake a kissing sound but we never actually "kiss" the cheek. We add that sound because the cheeks only bumping feels sort of empty and the fake kiss sound actually makes it feel like a greeting "kiss". 
Do lips touch the cheek ?
"Lip kissing" can happen, but only if there's affection involved or on a particular occasion, like to cheer up a sad friend. It's more like a "cuddling kiss" than a greeting kiss. So it mostly happens between parents and children, best friends or at least dear friends to make them feel happy, cuddled, or if they just got a bad news and you want to cheer them up, etc… If a French native person we barely know "lip kiss" our cheek, that feels really creepy and out of place. That could be also seen as a desperate/lame attempt at seducing, at making a physical contact like "heyyy I like you but I'm such a loser, I can't tell you directly". 
From a foreigner, that'd be seen as "une erreur de débutant". Not a big deal, we'll pass on it thinking nobody properly explained you how to greet the French way. 
What cheek to tend and how many kisses ? 
You also have to know that Southern French people tend to "kiss" with their right cheek while Northern people tend to do it with their left cheek, which leads to really funny situations with French people shaking their heads repeatedly until they're on the same page on which cheek to use like "Ah! Ah! Ah!" *Both freeze* "Bon bah par la droite alors haha !"" *uncomfortable laughs and massive urge to kill yourself*. 
Also, depending on which region you're in, there is a traditional number of kisses, two (one of each cheek) being the most regular one. Here's a map :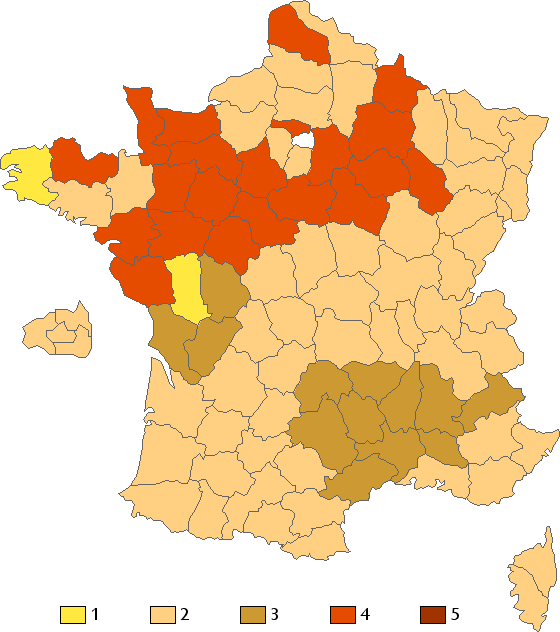 But there's no biggie if you forget, because the sentence "Ah non ! Chez nous c'est 3 !" *Uncomfortable laughs bis repetita* is extremely mainstream too.